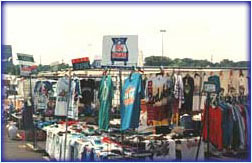 Philadelphia Flea Market has been operating at Bucks County Technology Park since October 2004. We are located at 4800 Street Rd, Trevose, PA 19053 -- 2 1/2 miles west of the race track. Philadelphia Flea Market has enjoyed an excellent reputation as a market that cares both for the customer and the vendor.

On Sundays, Philadelphia Flea Market is the place to be. The market is open every Sunday from March thru December from 8 a.m. - 2 p.m.

Having given you some background as to who we are, we invite you to shop with us every Sunday at Philadelphia Flea Market. There is free parking for all of our customers as well as handicapped parking available. We also have a money back guarantee policy which you can get more information about at the office.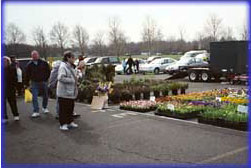 Shopping at Philadelphia Flea Market should be fun and we try to make sure your visit to our market is just that.

Our food courts prepare and serve you food, coffee, and soft drinks to your liking. Every food vendor has passed and will maintain the very strict sanitary codes of Bucks County. Our market maintains a high quality of customer awareness and you can be sure that everything is done to meet your needs.

Our used and antique section has something for everyone. One can spend a day looking around at our other merchants carrying first quality merchandise from picture frames, as well as framing while you wait, toys, games, childrens' clothes, mens and womens' clothing, reading glasses, sun glasses, classic movie tapes, music, socks, ladies and mens underwear, t-shirts, candles, rug cleaners, handbags, sweaters, sweatshirts, ,jewelry (14k gold), Costume jewelry, makeup, perfume and colognes to roasted peanuts and much more.


So come one, come all! We're having
a happening at Philadelphia Flea Market:

March through December on Sundays.